QUALITY OF SERBIAN SOYBEANS CONFIRMED INTERNATIONALLY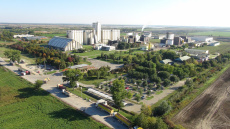 Premier global nutrition provider ADM has shown interest in Sojaprotein
Bečej, 26 July 2021 – ADM, a premier global nutrition provider and agribusiness, has shown interest in Sojaprotein, one of the most important non-GMO soybean processing plants in Europe. The purchase agreement was signed on today with the Parent Victoria Group under whose auspices Sojaprotein operates, and the completion of the transaction is expected after obtaining the approval of regulatory bodies.
The great interest of foreign investors in the past period, which should result in the arrival of the world giant ADM in Bečej, followed after new investments in the production of Sojaprotein, excellent business results and foreign sales in the last two years. 
"ADM offers the highest quality solutions for the food industry in accordance with the requirements of modern consumers, caring for their nutrition and health. We are pioneers in the segment of plant proteins, and this is one of the key areas in which we are continuously and intensively developing as the go-to provider for global customers.  High-value soy proteins and the quality of Sojaprotein's products recognized by a wide network of European and worldwide customers, fit perfectly into our portfolio. Sojaprotein has a wide range of diverse products that few soybean processors can boast, and its special comparative advantage is the processing of genetically unmodified soybeans. Combined with our rich portfolio of ingredients and solutions for human and animal nutrition, our team's international experience, global supply chain and innovative technologies, we believe in further expansion and even better positioning of products from Serbian non-GMO soy for customers around the world," said Leticia Goncalves, ADM President for Global Foods.
"With ADM at the helm, Sojaprotein enters a new phase of its development and further growth. Serbian soy products will now be available to new customers around the globe, and the companies will be able to offer new solutions in the over 65 countries to which Sojaprotein has been exporting for years. The arrival of a world-renowned strategic investor, with a tradition of 120 years and a global value chain stretching from farms to grocery shelves, is proof of the success and sustainable business model of our company, but also a great compliment for Serbia and our agri-food sector. We are proud that ADM has recognized the human and capital resources that Sojaprotein has at its disposal and that it can count on in its further expansion in the market in this segment," said Stefan Babović, Chief Operations Officer of Victoria Group.
Since its founding in 1977, Sojaprotein has been processing exclusively non-genetically modified soybeans, grown locally with strict control of origin and quality. A large number of protein and oil products of the company are widely used in the meat, confectionery, bakery and pasta industries, production of vegetable oils and fats, animal nutrition, dietetics and pharmaceuticals, as well as in vegetarian and vegan diets.