Chinese Delegation Visit Sojaprotein and SP Laboratory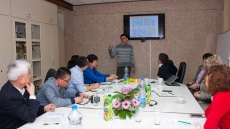 As a part of the project of the bilateral cooperation between Serbia and China, called "Soybean for Human Consumption", on March 23, the Chinese delegation were given a tour of the Sojaprotein factory and the SP Laboratory which operate within the Victoria Group. The project was supported by the Ministry of Education, Science and Technological Development of the Republic of Serbia and the Ministry of Science of the Republic of China in order to establish cooperation and exchange experiences in applying soybean to the food industry.
During the visit, the Chinese delegation were introduced to the range of products and manufacturing technology at Sojaprotein, it being the biggest refiner of NON-GMO soybean in this area of Europe. Also, many tests that have been executed by SP Laboratory, which is one of the most contemporary laboratories in Serbia, were presented to its members.
The delegation included the director of the Soybean Research Institute, prof. Li-Jun Liu, PhD with her associates, as well as the attache for science and agriculture of the Chinese Embassy in Belgrade, Yongning Chen. The delegation was welcomed by representatives of the Victoria Group - Siniša Košutić, general manager of Sojaprotein; Milenko Tica, sales manager of Sojaprotein; Čedomir Pešić, production manager of Sojaprotein; Aleksandra Petrić, quality control manager of Sojaprotein; Aleksandra Bauer, SP Laboratory manager, and Natalija Kurjak, marketing manager of Victoria Logistic. The guests from China were also accompanied by representatives of the Institute of Field and Vegetable Crops Novi Sad, Svetlana Balešević Tubić, PhD and Vuk Đorđević, PhD from the Soybean Department.