General Manager of Sojaprotein awarded for contribution to Bečej's economy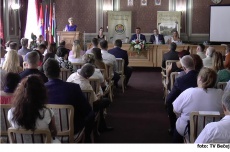 At the ceremonial session of the Municipal Assembly of Bečej held on August 1 as part of the Municipality Day festivities, the annual awards for the contribution to the local community – the August 1st Awards – were presented.
Siniša Košutić, General Manager of Sojaprotein, was awarded for his contribution in the field of economy.
Other laureates were the Gerontology Center "Bečej" for its contribution in the field of healthcare and social protection, the Rotary Club "Stari Bečej" for charity work, Goran Dumanović, Artistic Director of the Cultural and Artistic Society "Đido", for his contribution in the field of culture, the Dance Ensemble "Selence" and the Hungarian Cultural Society "Petőfi Sándor" for the preservation of customs and tradition in the local community; Rev. Fuderer László received an award for the protection of good interpersonal relations, while volleyball player and coach Nikola Džigurski was awarded for his contribution to sport.
The gathering was attended by the representatives of the provincial government, state authorities and public institutions, and the guests were greeted by Dragan Tošić, the Municipal President of Bečej and Nenad Tomašević, the President of the Municipal Assembly.
photo: TV Becej