Victoria Group awarded for successes in the export of soy and sunflower meal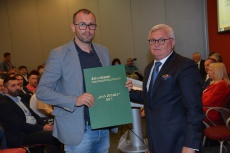 Companies with the best achievements in the export of agricultural products were awarded by the association "Žita Srbije" ("Association Serbia Grains") in the framework of "Seed Day", organized within the International Agricultural Fair in Novi Sad on May 17. Victoria Group was awarded for its successes in the export of soy and sunflower meal. The award was handed to Mladen Jovanović, General Manager at Victoria Logistic, a Victoria Group member company.
During the gathering, "Žita Srbije" presented, in collaboration with UN FAO (Food and Agriculture Organization of the United States), the results in production, trade and export of Serbian grains and oilseeds realized last year. The "Žita Srbije" association director, Vukosav Saković, claimed that 3.5 million tons of goods had been exported in 2016 by members of this association and that it was mainly them contributing to the surplus of foreign trade with agricultural goods. He emphasized that Serbia holds the second position in Europe and the fifth worldwide in the percentage growth of export in dollars, which is mainly due to the export realized in the agricultural sector.