Victoria Group Takes Part in the EastAgri Conference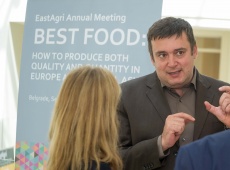 EastAgri 2014, an annual conference organised by the European Bank for Reconstruction and Development (EBRD) and the United Nations Food and Agriculture Organisation (FAO), was held in Belgrade on 18 and 19 June. The central topic of the conference – how to achieve quality and quantity in food production in Europe and Central Asia – brought together the highest-level officials of the Serbian Government, international institutions involved in the development of agriculture and agroindustry, and representatives of the agribusiness companies that operate in the region.
Victoria Group was represented by Nikola Vujačič, Director of Operations, who participated in the plenary session on the first day and a roundtable discussion on the second day. On this occasion, he pointed out that under conditions of globalisation, acceleration and increased scope of foreign trade accompanied by the inclusion of Serbia into the largest multilateral trading systems in the world, investment in competitiveness was the only way forward. He also noted that this applied to all participants in the agribusiness chain – from individual farmers to processors, emphasising that Victoria Group had accounted for about 10% of the total exports of the Republic of Serbia in the area of agricultural and food products for two years in a row.
At the beginning of the conference, the participants were addressed by Prof. Snežana Bogosavljević-Bošković, PhD, who is Minister of Agriculture and Environmental Protection in the Government of the Republic of Serbia; Vladimir Rakhmanin, FAO Assistant Director-General for Europe and Central Asia; Gilles Mettetal, EBRD Director for Agribusiness; and Matteo Patrone, Director of the EBRD Regional Office in Belgrade.
The first part of the plenary session addressed improvements to food quality in the entire supply chain and fulfilment of both customer requirements and the standards of the export markets. Beside Nikola Vujačić, Victoria Group Chief Operations Officer, representatives of agribusinesses in the region – Agrokor, MK Group and Atlantic Group; representatives of EBRD, Vedrana Jelušić and Miljan Ždrale; and Danilo Golubović, State Secretary in the Ministry of Agriculture and Environmental Protection, and Andriy Dykun, Deputy Minister in the Ministry of Agrarian Policy and Food of the Government of Ukraine took part in the meeting. The discussion was moderated by Jonathan Charles, EBRD Director of Communications.
The second part of the plenary session addressed partnership and cooperation of international financial institutions in the regional agricultural sector through the EastAgri platform, whereas on the second day of the conference, four roundtables were held concurrently, concerning improvement of production quality and expansion into new markets, green production, financing the modernisation of agribusiness companies and improvement of investment procedures. At the end, the conclusions from this year's EastAgri were presented along with proposals for further steps in the development of agriculture and food industry in Europe and Central Asia.