Danube Soya Field Day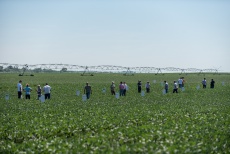 The third "Danube Soya Field Day — From NON-GMO soybeans to NON-GMO milk" was held on June 15 in Lugovo near Sombor. It was attended by over three hundred soybean manufacturers from the whole country as well as representatives of the processing industry and scientific community.
The Soya Field Day was jointly organized by the regional Danube Soya Association and Agri Business Partner, Sombor. The agricultural producers were presented with a mechanized, innovative and modern approach to soybean production as well as with the pathway towards the first certified domestic NON-GMO milk. In addition to a range of domestic seed houses, specialized machines for mechanical weed control were presented in combination with plant protection products. Also, the application of foliar fertilizers in soybean production was demonstrated.
It was two members of Victoria Group, Sojaprotein and Victoria Logistic, who were among the first to introduce the Danube Soya standard in Serbia. Mirjana Koruga, director of the Victoria Logistic quality control department, shared the experience of the company with the attendees at the Danube Soya Field Day.
"The basis for the implementation of the Danube Soya certification is the IP program which has been applied within our company since 2004 and which allows for the complete traceability of soybean production and of the phases of storage and processing later on. NON-GMO soybeans denote soybeans that are less than 0.1% modified, which is the central requirement of the Danube Soya standard. Its introduction and the application of all requirements and guidelines have resulted in the advancement of good manufacturing practice among our agricultural producers. This has also enhanced the quality management of soybeans during storage and during all phases of processing up to the finished product. Nowadays, the introduction of standards in agriculture is not a matter of prestige or trend, but a necessity and a precondition for being competitive on the market" – said Mirjana Koruga at the Danube Soya Field Day.