Regional cooperation for GMO-free soybean from the Danube region continues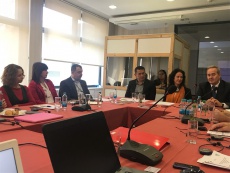 On October 31 and November 1, the final regional meeting of the National Supervisory Boards of Bosnia and Herzegovina and Serbia within the "GMO-free Quality Soybean From the Danube Region" project of the German Corporation for International Cooperation (GIZ) was held in Teslić.
Victoria Group was represented by Natalija Kurjak, Marketing Director at Victoria Logistic and member of the GIZ project supervisory board, as well as Željko Nikolić, Director of the Financial Derivatives Trade sector, and Marko Mrkić, associate in the same sector, all of whom attended the panel on the global soybean market.
The meeting summarized the results achieved over the three years of this project, the goal of which was to promote the importance of the production and processing of GMO-FREE soybean in Serbia and Bosnia and Herzegovina. The ministries of agriculture from both countries, as well as representatives from the agricultural, expert, and scientific communities participated in the realization of this project. The participants agreed to continue activities relating to GMO-FREE soybean through the "Danube Soya" project. Some of the topics at the meeting included labeling the GMO-free products at the level of 14 countries in the region, monitoring the cultivation of soybean, supporting its cultivation and the development of the Danube Soya value chain and its market.