Victoria Group on European Association of Agricultural Economists Conference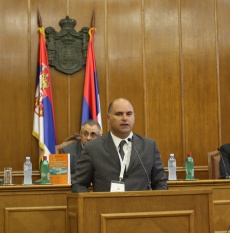 Victoria Group is the main sponsor of 135th seminar of European Association of Agricultural Economists, organized in Belgrade from 28 to 30 August. The conference gathered over 150 domestic and foreign experts in the field of agricultural economy. Main topic of this year's lectures and workshops are Doha negotiations, challenges of global agricultural trade and future of multilateral trading system in WTO.
John Chetcuti, COO of Victoria Group, participated in the opening of this three-day seminar. He emphasized the importance of this and similar multilateral systems that will provide additional opportunities for placement of Serbian products on the markets worldwide. He added that Victoria Group, as one of the largest exporters in Serbia, with exports exceeding EUR 200 million, is following this process with great interest, since it will most certainly affect business results of the company.
The 135th International conference in Serbia was organized by the Association of Agricultural Economists in Serbia, with the support of Serbian Academy of Sciences and Arts, Faculty of Agriculture in Belgrade, Faculty of Economy in Subotica and School of Professional Business Studies in Novi Sad.